Skip to Content
Dr. Alex Westerband MD, MBA, CWSP, RPVI, FACS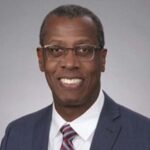 Vascular Surgeon and Endovascular Specialist
Scottsdale Office
Vascular surgeon and Endovascular specialist, Dr. Alex Westerband specialize in the minimally invasive treatment of peripheral arterial disease, aortic and other peripheral aneurysms, carotid artery disease for stroke prevention, the management of chronic deep vein thrombosis and obstructions, laser treatment, and sclerotherapy for treatment of varicose veins, and spider veins. He also evaluates and treats other numerous vascular pathologies requiring open surgical traditional methods. Board-certified in both vascular and general surgery, and a former Associate Professor of Clinical Surgery at the University of Arizona, he has authored or co-authored several book chapters and more than 40 peer-reviewed articles. He has a reputation for excellence throughout the Valley and Tucson, including service within the VA Hospital Health System.
Dr. Westerband is a member of the Society for Vascular Surgery, the Western Vascular Society, the Society of Vascular Ultrasound, as well as the Vascular and Endovascular Surgery Society. A Fellow of the American College of Surgeons, he is on staff at multiple major Valley hospitals.
Education and Residency:
Medical School – Université d'Etat d'Haïti Faculté de Médecine et de Pharmacie
University of Arizona, Tucson, Fellowship in Vascular Surgery
Arizona Heart Institute, Phoenix, Mini-Fellowship in Endovascular Surgery
Albert Einstein College of Medicine of Yeshiva University, Long Island Jewish Medical Center, Residency in General Surgery
Case Western Reserve University, University Hospitals, Residency in General Surgery
Institution Saint-Louis de Gonzague, Port-au-Prince (Bachelors)
Université Louis Pasteur, Strasbourg (Surgery, Biology, Sports Medicine and Proctology)
George Washington University, Master's in Business Administration
Hospital Affiliations:
Abrazo Arizona Heart Hospital, Phoenix, AZ
Abrazo West Valley Campus, Goodyear, AZ
HonorHealth Osborn Medical Center, Scottsdale, AZ
HonorHealth Shea Medical Center, Scottsdale, AZ
Abrazo Central Campus, Phoenix, AZ
Abrazo Scottsdale Campus, Phoenix, AZ
Banner University Medical Center, Tucson, AZ
Call Our Phoenix Vein and Vascular Treatment Experts to Make an Appointment
Same-Day Appointments Are Available!