Skip to Content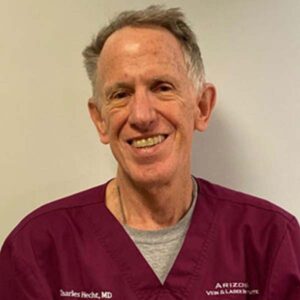 MD, General Surgeon
Avondale Office: Monday – Wed. 9 AM – 5 PM
Surprise Office: Thurs. 9 AM – 1 PM, Friday 9 AM – 5 PM
Education:
Dr. Charles Hecht grew up in New York City. He graduated with Bachelor's degree from New York University and an MD from the State University of NY Upstate Medical Center.
Residency:
Dr. Hecht did his residency in General Surgery at Ohio State University including several rotations in vascular surgery. He has been practicing as a general surgeon in the valley at major hospitals since 1980.
Dr. Hecht joined Arizona Vein and Laser Institute in 2014 as a vein specialist and has since been treating patients with venous disorders at the institute.
Dr. Hecht has been associated with Arizona vein and laser since 2013. Since that time, Dr. Hecht has had a long following of extremely satisfied patients and is well respected for his laser techniques.
He works out of two of our six locations, Avondale and Surprise. We are fortunate to have a well-regarded and extremely talented Doctor on staff.
Call Our Phoenix Vein and Vascular Treatment Experts to Make an Appointment
Same-Day Appointments Are Available!