Skip to Content
Learn More About the Symptoms of Venous Disorders
Most people don't know much about venous disorders. However, it is crucial to identify common symptoms of vein conditions so you can ensure your health. Whether you're wondering what causes varicose veins, or you're concerned you may have chronic venous insufficiency, Arizona Vein and Laser Institute is here for you. Our team has the skill to diagnose your condition and then consider a variety of treatment options. We'll always keep you informed about your circumstances. We have six locations across Arizona, all equipped to help you understand your condition and symptoms. Visit us in Scottsdale, Chandler, Glendale, Surprise, Avondale, or Phoenix to consult with a provider about your vein symptoms.
Understanding the Different Venous Disorders
Before looking for specific symptoms, it's beneficial to understand the different varieties of venous disorders. We can explain your condition in detail, but it's a good idea to familiarize yourself with common ailments beforehand. If you are wondering what causes spider veins or if leg pain can be a sign of heart problems, our team has the answers. Here are a few well-known vein conditions and their causes:
-
This condition occurs when the veins in your leg cannot properly divert blood to the heart. Instead, blood begins to pool in the legs, causing edema, ulcers, and more. Up to 40% of Americans struggle with chronic venous insufficiency.
-
While varicose veins are typically nothing more than an aesthetic issue, they can lead to additional problems. Most times, varicose veins emerge naturally as you age, and the veins begin to stretch and twist.
-
These small, blue veins are usually caused when the valves in the vein become weak and malfunction. Spider veins are typically painless.
-
Phlebitis
Phlebitis describes inflammation of veins close to the skin's surface. In most cases, phlebitis develops as a result of trauma to the vein but does not cause further health problems.
-
Abbreviated as DVT, this condition results from blood clots in the deep veins. If you suspect you have deep vein thrombosis symptoms, seek medical care immediately, as it can become life-threatening. Watch for leg inflammation, redness, leg ulcers, swelling, and calf pain.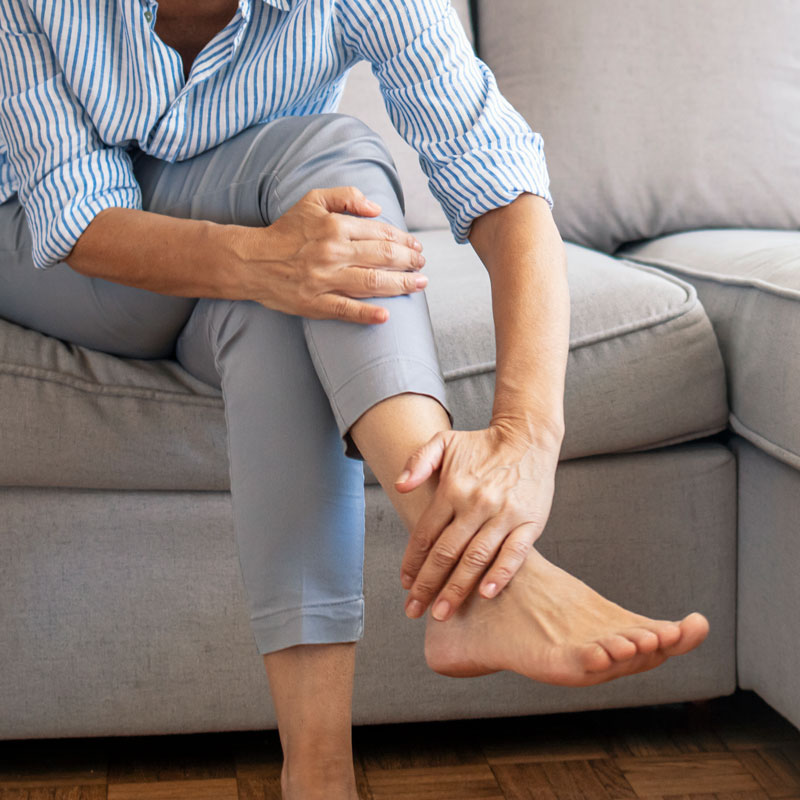 What Are the Symptoms of Venous Disorders?
Fortunately, venous disorders come with several identifiable symptoms. While you may not immediately recognize the problem, over time, you'll likely see symptoms emerge. Because conditions such as deep vein thrombosis quickly become severe, it's crucial to stay vigilant for the following symptoms of venous disorders:
Inability to walk, stand, or sit for long periods of time without leg pain or swelling
Rope-like veins bulging from one or more areas on the leg, calf, or ankle
Heaviness in the legs that limits activity or mobility
Inability to sleep due to what feels like restless leg syndrome
Compression stockings did not result in any improvement or caused pain to worsen
Reliance on medications to sleep comfortably through the night
How We Diagnose Venous Insufficiency and More
The team at Arizona Vein and Laser Institute has years of experience diagnosing a wide range of conditions, including varicose ulcers, venous insufficiency, reflux, phlebitis, and much more. At the first sign of the above symptoms, don't hesitate to reach out to us. We'll set you up with an appointment where we will complete a physical exam. Our team may also perform several diagnostic and lab tests to better understand your condition.
Treatments You May Receive
Once we know the details of your condition, we can begin treating it. We will make sure you understand each treatment option and give our recommendations for the best course of action. Our team offers everything from non-invasive procedures to vein removal surgery. Many patients benefit from conservative management therapy. This type of treatment involves wearing medical-grade compression stockings that reduce swelling in the legs. Less severe cases of varicose veins may be treated with endovenous laser treatments or sclerotherapy. Other patients may need a phlebectomy to address more stubborn cases.
Reach Out to Us for More Information
If you have noticed any of the above symptoms, it may be time to talk to the team at Arizona Vein and Laser Institute. With locations in six cities across Arizona, we have plenty of resources and healthcare providers to help you. Whether your arm veins are beginning to bulge, or you haven't found relief with compression stockings, our team will help you find an appropriate treatment. We have the experience to handle a wide range of conditions, staying by your side from diagnosis through treatment. Contact us today to set up a free vein screening.
Customer Reviews
Everyone was kind and professional. Dr. Sharma was very personable and the lady who bandaged me up was especially great. I wish I remembered her name!
The shame was that your staff can't read the insurance regulations or the insurance promises. That caused my resolution on the legs to be done on a month afterward. That doesn't seem right but no form of apology was made to try to correct it is that the sharma! Yeah
Call Our Phoenix Vein and Vascular Treatment Experts to Make an Appointment
Same-Day Appointments Are Available!