Skip to Content
Arterial Wound Care & Evaluation
Diabetic & Arterial Wound Care in Metro Phoenix, AZ
The term "venous wound" encompasses a wide range of different types of injuries, including ulcers, blisters, bites, diabetic wounds, burns, and more. They tend to occur or persist as a result of a vascular or circulatory issue, which can often make it harder for a wound to heal as it should. Arizona Vein and Laser Institute feature a team of board-certified surgeons and medical practitioners that specialize in the diagnosis and treatment of venous diseases and wounds. Our team utilizes the most advanced technology in the medical industry to ensure your procedure is successful.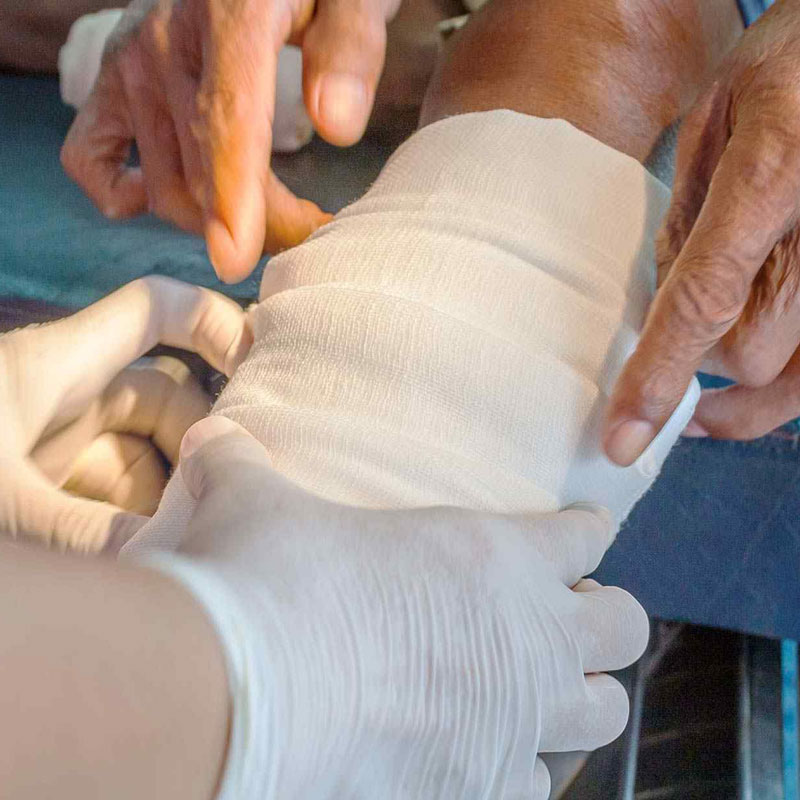 Non-Healing Venous Wounds
There are multiple reasons why a person could be suffering from non-healing wounds for many years without knowing the underlying causes. It is essential that you visit our top vascular surgeon Dr. Sharma at Arizona Vein and Laser Institute to get a comprehensive evaluation of your veins and arterial blood flow in depth. After the cause of the wound is evaluated, Dr. Sharma will then discuss with you a treatment plan in detail. In most cases the would can be dried or closed after resolving the internal and external issues but in some cases it may not heal at all due to the advanced progression of the disease. In which case, Dr. Sharma and our vascular surgeons will refer you to a regular wound clinic for long-term care of the wound.
What Treatment for Venous Wounds Is Best for Me?
If you're suffering from a venous wound, your first step is to consult with experts in venous wound care, such as the board-certified practitioners here at Arizona Vein and Laser Institute. Our vascular doctors will perform a physical examination to determine the specific kind of wound you're dealing with. Once diagnosed, we'll discuss the best treatment plan for your needs, getting you one step closer on your path to healing.
Some of the more common treatments for venous wounds include:
Local Wounds
Local wounds are typically used in cases of chronic venous stasis ulcers; local wound care involves the sterilization and debridement of the area. The sterilization process helps to reduce the chance of infection, or in cases of current infection, prevent it from getting worse. Debridement removes dead tissue through sharp, enzymatic, mechanical, biological, or autolytic means.
Dressings
Dressings are typically used under compression bandages to foster proper healing, absorb fluids, improve comfort, and prevent your wound from adhering to the bandage. Some of the many dressings that may be used, depending on your needs, include bio-engineered skin substitutes, extracellular matrix dressings, hydrofiber dressings, acetic acid dressings, and more.
Compression Bandages
Compression therapy is used to prevent new ulcers, control swelling, and reduce venous hypertension, with the goal of reducing symptom severity, preventing complications, and slowing the progression of the disease. Ultrasound screenings may be used to rule out any potential deep vein thrombosis, as compression therapy in DVT patients can cause serious complications.
Antibiotics
Bacterial colonization and infection are notorious for contributing to poor wound healing in patients with VSUs. In cases of severe infection, your doctor may recommend oral antibiotics for patients with wound-bed infections and cellulitis. If you're experiencing increased pain and swelling, a fast increase in wound size, fever, or lymphangitis, your doctor may suggest IV antibiotics.
Surgery
In some cases, your doctor may recommend surgery to reduce venous reflux, speed up healing, and prevent the recurrence of ulcers. Our team may perform an ultrasound to determine whether surgery is the best fit for your case. Surgical options for venous wounds include vein ablation, endoscopic surgery, stenting, laser therapy, sclerotherapy, phlebectomy, and more.
The Four Phases of Wound Healing
When dealing with venous diseases and wounds, it can be comforting to understand the healing process. There are four stages of wound healing as follows:
Phase 1: Hemostasis
The first phase of healing, called hemostasis, begins as soon as the injury occurs. The primary goal of your body during this phase is to stop the bleeding through contact between platelets and collagen. During this process, the blood begins to clot at the wound site, slowing and eventually stopping the bleeding.
Phase 2: Defensive / Inflammatory Phase
Now that the bleeding has stopped, your body jumps into action to destroy bacteria and remove debris, ultimately getting the wound bed ready for the growth of new tissues. This phase lasts for approximately four to six days and can involve swelling, reddening of the skin, and pain.
Phase 3: Proliferative Phase
Now that the wound is cleared out, your body begins to focus on filling and covering the wound with connective tissues, new blood vessels, and the growth of epithelium. This phase lasts anywhere from four to 24 days depending on the severity of the wound and your overall health.
Phase 4: Maturation Phase
During this phase, your body begins to reorganize and remodel cells and fibers to increase the strength and flexibility of the skin, ultimately regaining up to 80 percent of the strength it had before the injury occurred. As with other phases of healing, the duration of this phase can vary from 21 days to two years depending on the severity of the injury and your overall health.
Contact us today and schedule your treatment at any of our locations here at Arizona Vein and Laser Institute.
Frequently Asked Questions
Have You Been Evaluated by a Vascular Surgeon if You Have an Active Non-healing Wound?
If the answer is 'no' please call FOR FREE SCREENING time with our vascular surgeon Dr. Sharma.
Do You Suffer From Venous or Arterial Disease and as a Result Have Discoloration in Your Ankle or Toes?
If the answer is 'yes' please call FOR FREE SCREENING time with our vascular surgeon Dr. Sharma.
Call Our Phoenix Vein and Vascular Treatment Experts to Make an Appointment
Same-Day Appointments Are Available!