Skip to Content
Vein & Vascular Specialists in Scottsdale, AZ
To learn more about the services provided by our clinics or to schedule a diagnostic ultrasound, please call our Scottsdale office today. We would be happy to discuss your options, the possible opportunity for financing, or to answer any questions you have regarding treatment and insurance plans.
We Provide a Variety of Vein Treatment Procedures
The vascular specialists at Scottsdale's Arizona Vein and Laser Institute can help improve your venous health with an assortment of vein treatment methods. We are happy to offer free vein screening to understand your condition better. After an evaluation, we can suggest treatment plans that include:
Arizona Vein and Laser Institute Treats Vascular Issues
Patients throughout Scottsdale, AZ rely on the vein specialists at the Arizona Vein and Laser Institute for exceptional care. Our team is dedicated to providing treatment that will help restore the health of your legs while also improving their appearance. We realize that varicose veins are not only unsightly but can also be painful. You should not have to go through life in pain or shame. Let the Arizona Vein and Laser Institute help. Our vascular surgeons can remove varicose veins and perform a host of other procedures to address all types of conditions, including peripheral artery disease and atherosclerosis. Call us to learn more about our range of treatments.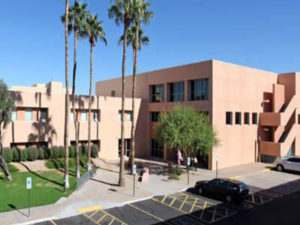 Locations
Arizona Vein and Laser Institute of Scottsdale is proud to serve the following nearby communities:
Scottsdale
North and South Scottsdale
Paradise Valley
Fountain Hills
Desert Ridge
Contact Arizona Vein and Laser Institute Today
If you are self-conscious about your varicose veins, do something about it. Do not continue to suffer when you walk or look in the mirror. The vein specialists at Arizona Vein and Laser Institute offer a suite of vascular treatment options to improve your health and self-esteem. At our office in Scottsdale, Arizona, you can receive spider vein removal treatment, endovenous laser treatments, and various other therapies. Contact us today for your free peripheral artery disease screening.