Skip to Content
Understanding Varicose Veins, a Venous Disease Symptom in Arizona
Varicose veins usually appear on the legs, feet, and ankles. They are raised veins and are usually blue or purple underneath the skin. They're far more common in women than in men. As mentioned they can be a symptom of a venous disease. Varicose Veins are also more prevalent in people in professions that require standing, such as nurses or teachers. Other factors that influence this include aging, obesity, pregnancy, trauma, genetic predisposition, and leg surgery. It's important to remember that there also are cosmetic benefits to removing varicose veins too. Learn more about varicose vein aesthetic procedures.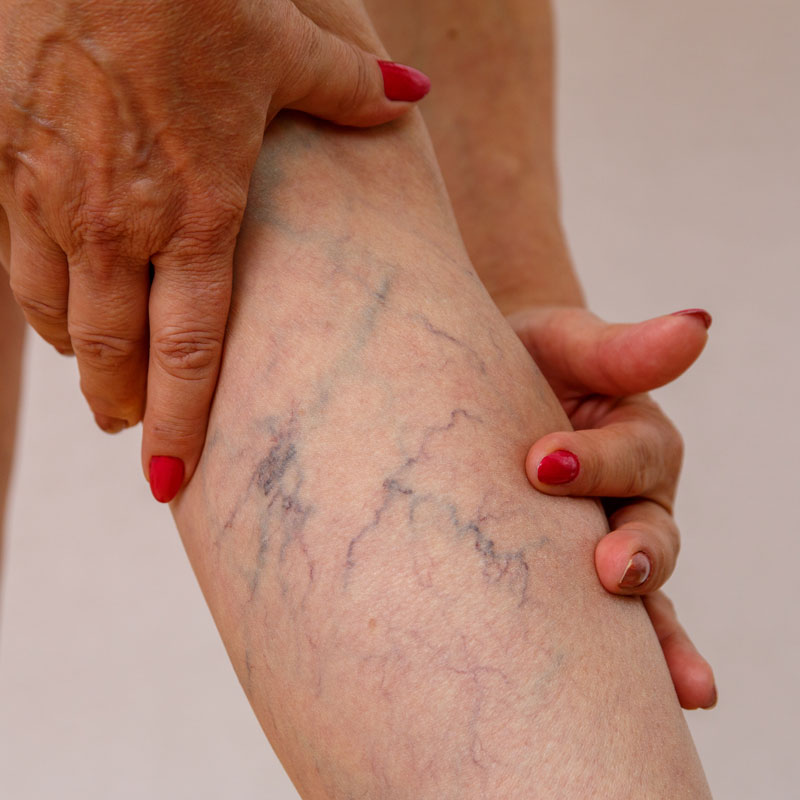 What Causes Varicose Veins?
Healthy veins have a one-way flow of blood. A vein is essentially a hollow tube with two valves at either end that close off to ensure all the blood flows one way. What causes varicose veins—the blue or green twisted, bulging veins that typically appear on the legs—is when some of the blood pools inside the vein when the valve doesn't prevent the blood from flowing in one direction. The blood backs up in the vein and causes bulging and the "twisted vein" appearance. As you age, you're more likely to develop varicose veins. Pregnant women are also more likely to have them. A family history, of varicose veins, obesity and sitting or standing for prolonged periods of time also increases your risk.
For some, varicose veins are more than just unpleasant to look at. They also can be signs of serious circulation problems.
How Do I Know If I Have Varicose Veins?
To diagnose varicose veins and venous disease, the doctor will perform a physical exam where he or she looks for varicose veins on your legs. The doctor also will check for tender spots, ulcers and skin color changes. Expect to answer a few questions about your condition like, "when did this start?" or "how severe is your pain?"
You may receive an ultrasound so the doctor can see what way the blood is flowing.
How Do Varicose Veins Affect My Health?
Legs that ache or feel heavy
Burning, throbbing, swelling or muscle cramping in your legs
Increased pain following long periods of sitting or standing
Skin ulcers
Blood clots
Bleeding from the veins
Cosmetic Benefits for Varicose Veins
Besides the physical pain that comes with varicose veins, varicose veins also can be unsightly. If you find that you're always self-conscious about your legs and can't wear shorts or swimwear in public, you may want to consider having the varicose veins removed. Many of the treatments are minimally invasive and can make you feel better about yourself in no time.
If you feel your varicose veins are holding you back, contact us to schedule treatment so you can feel and look your best.
Customer Reviews
Dr Sharma is an excellent doctor. He treated my veins several years ago and I was so pleased that I've made an appointment to have my newest varicose veins treated by him. He is a genuinely nice person and has a very friendly staff.
I cannot understate the amazing care I received from Dr Sharma and his whole team! From the front office team to the assistants, ultra sound techs and of course Dr Sharma, each person was friendly, accommodating, and extremely knowledgeable and capable!
Call Our Phoenix Vein and Vascular Treatment Experts to Make an Appointment
Same-Day Appointments Are Available!