Skip to Content
Peripheral Vascular Disease FAQ
Peripheral Vascular Disease Diagnoses in Arizona
Learn More About Peripheral Vascular Disease
Being diagnosed with a vein disorder is no walk in the park. You deserve support as you learn to live with your condition and search for the right treatments. At Arizona Vein and Laser Institute, we're committed to helping our patients better understand peripheral vascular disease and other conditions. At our six locations across the state, we offer outstanding care to patients with all kinds of symptoms. If you have a question about a peripheral vascular disease diagnosis, browse our FAQ or reach out to us directly to talk to a healthcare professional.
What Is Peripheral Vascular Disease?
Peripheral vascular disease (PVD) is a group of conditions that affect the blood vessels surrounding the heart and brain. In many cases, PVD causes blood vessels connecting the arms, legs, stomach, and kidneys to narrow and make it difficult for blood to get through. You might have also heard of peripheral artery disease, which is a type of PVD that occurs because of fatty buildup and plaque in the arteries.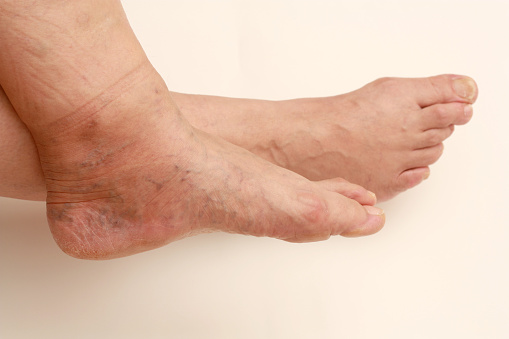 Are There Any PVD Symptoms?
Many patients with PVD have no apparent symptoms. When they do appear, it can be easy to write them off as normal cramping or fatigue. However, it's crucial to stay vigilant for certain symptoms and report them to your doctor. PVD patients often report the following symptoms:
Achiness or discomfort in the legs
Pain that only appears while walking or exercising
Discolored skin (purple or blue)
Ulcers on the feet and legs
Reduced hair on the legs
The skin on the legs and feet appears thin or shiny
What Causes PVD?
PVD can result from a variety of factors. Lifestyle factors such as smoking, excessive stress, and a poor diet (leading to high cholesterol) can cause organic PVD and PAD. However, many patients develop PVD as a result of another condition, such as diabetes or high blood pressure. It's important to talk to your doctor about whether you're susceptible to a common PVD cause.
Which Treatments Do You Recommend?
While there is no peripheral vascular cure, we can offer you a slew of treatment options. Minor cases of PVD can be alleviated with lifestyle changes. Our team will work with you to create a plan that promotes healthy living. This plan might include steps toward quitting smoking, eating a balanced diet, or fitting exercise into your daily schedule. Other patients benefit from medications that reduce the risk of blood clots and control cholesterol and blood pressure. In the most severe cases of PVD, we may need to do surgery. These procedures insert a catheter to open up the blocked veins or use grafting to bypass the blockage.
How Do I Know If I'm at Risk?
PVD most often stems from lifestyle habits and underlying conditions. Most diagnoses are linked to a history of smoking, high blood pressure, high cholesterol, and diabetes. However, people who do not meet any of these criteria may still be at increased risk for PVD. Men older than 50 have a higher chance of developing the disease, and those with a sedentary lifestyle further increase their risk. The best way to minimize your chances of PVD is to make healthy changes to your lifestyle—implement a heart-healthy diet, exercise often, and lose weight if directed to do so by a doctor.
Consult With Arizona Vein and Laser Institute Today
If you're concerned about PVD or vascular insufficiency, don't hesitate to reach out to the team at Arizona Vein and Laser Institute. We can answer all of your questions and help you better understand your condition. Your doctor will walk you through your treatment options and recommend lifestyle changes to minimize your symptoms. Every step of the way, we emphasize compassion and outstanding patient care. We have locations all over Arizona, including in Glendale, Phoenix, and Scottsdale—find your nearest location today and give us a call.