Skip to Content
What Kind of Doctor Treats Varicose Veins?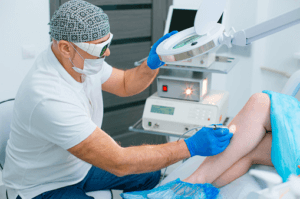 If you are suffering from varicose veins, it's likely that you will want to seek vein treatment. How will you find the right doctor to help you? There are many different doctors who treat varicose veins; the treatment is not just done by vascular surgeons. In fact, any qualified physician can treat varicose veins, but do you want just anyone treating yours? You don't ask a plumber to fix your car, you call in a mechanic who is experienced and qualified to do the job. Similarly, when you need varicose vein treatment, you should seek board certified specialist with the right training, experience, and qualifications to properly treat your veins.
Before you decide on a doctor, check the credentials. Is the doctor a Board-Certified Vascular Surgeon? To attain this designation, a surgeon must have five to eight years of surgical training. The emphasis during this multi-year training period is vascular care, and vascular specialists are trained in all of the different aspects of vascular care, from minimally invasive procedures to extremely complex surgeries. The training is extremely rigorous, and the board certification process involves passing oral and written examinations given by the American Board of Surgery. When you put yourself in the hands of a Board-Certified Vascular Surgeon, your surgeon will offer you a wide array of vein treatment options, creating a plan to successfully treat your specific condition.
Beyond board certification, look for information about your doctor's education. Did he or she graduate from a good medical school? Complete a good residency program? How many years of experience does your doctor have in the field of vascular medicine? What honors have been bestowed upon your doctor by medical organizations?
What about the practice? What do patients have to say about the treatment they received? What's the focus of the practice? Is vein treatment approached from a cosmetic standpoint, simply improving spider vein and varicose vein appearance? Or is the attention given to underlying vein disease and the factors behind these issues? Choosing a doctor who focuses on the deeper issues means your treatment is more likely to be successful.
What kind of treatments is available through the practice you're considering? It used to be that vein removal was the standard for varicose vein treatment, but modern vascular care incorporates many minimally invasive procedures. These treatments, which include radiofrequency ablation, endovenous laser ablation, and sclerotherapy, offer many advantages over traditional vascular surgery. They're typically done as outpatient procedures, with minimal anesthesia, in less than an hour. There's very little recovery time, and side effects, which include symptoms like swelling and pain are minimal.
If you're seeking the very best care for your vein and blood flow issues, trust the board-certified physicians at the Arizona Vein & Laser Institute. Using the most advanced technology, the vascular and cardiovascular surgeons at the Arizona Vein & Laser Institute provide care for all types of venous diseases. With over 40 years of experience, our team of experienced physicians can devise the right treatment plan to address your venous disease problems. For more information contact us through our website.